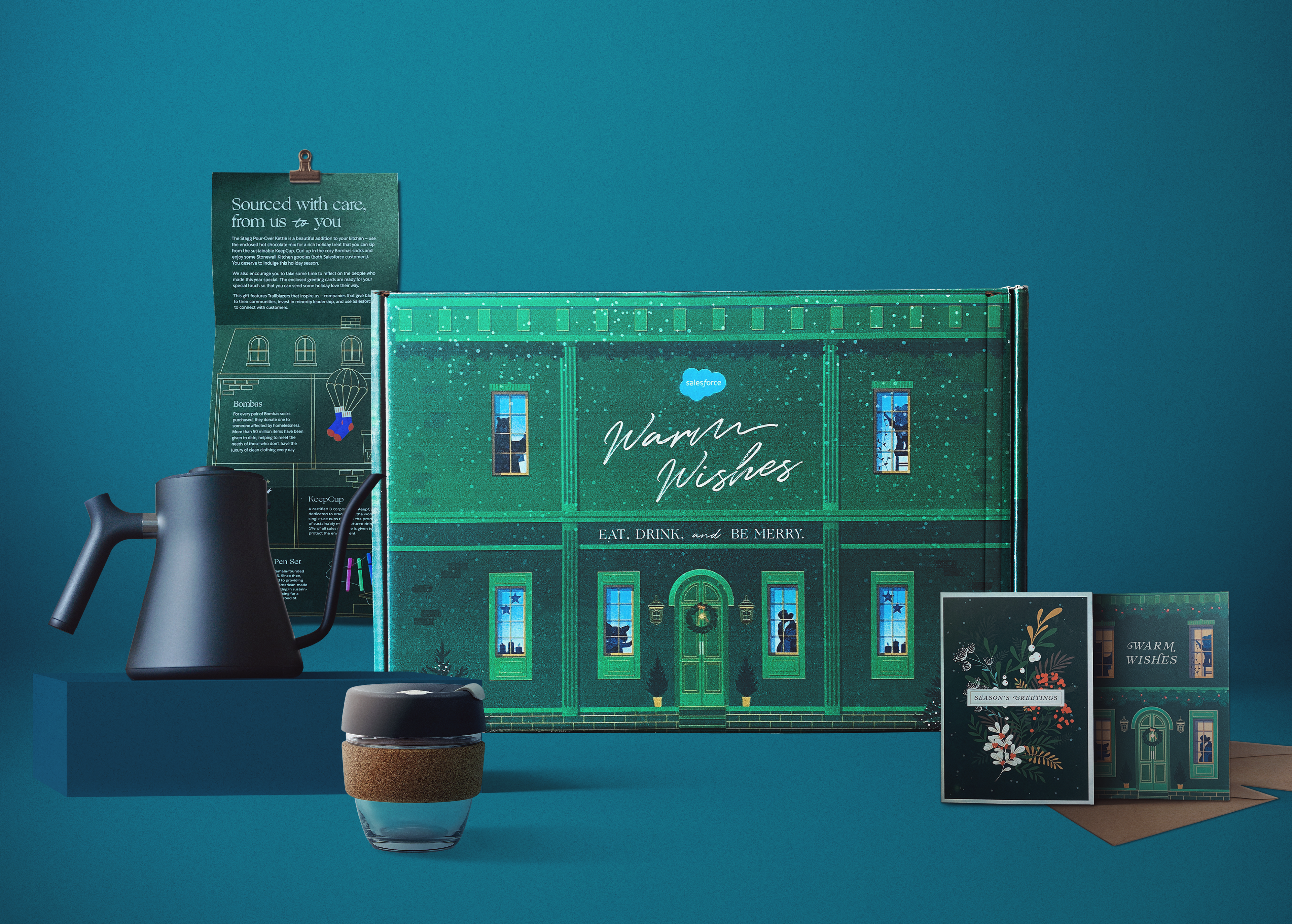 Creative Direction: Ashley Davis
Design: Megan Gray
Copywriting: Kelly Smith
This 2021 Holiday project was executed by the Salesforce ABM Creative team, with a goal to provide a high-end, unique, and thoughtful holiday experience for executives at top accounts. We wanted to ensure that the items were not only sustainably sourced, but also gifts that kept giving – featuring certified B-corps and brands with charitable elements.
The mailer follows a theme of "Cozying up for the Holidays," with included gifts to encourage pausing, slowing down, indulging, and expressing gratitude. Custom designed holiday cards invite the recipient to reach out to those they love at the end of a long year. An enclosed foldable insert connects the gifts to Salesforce's values, tying it all together with the spirit of the season. 
The box design and additional features give the whole kit a luxury feel while also communicating themes of holiday comfort and togetherness. The subtlety of including Salesforce characters in the windows keeps it from being too overtly branded, ensuring a whimsical quality yet still evoking elegance through pine greens and gold accents. 
The mailer offers a chance to send a personal touch to key customers and create a conversation opener, while also reinforcing Salesforce's values system. 
The physical kit includes:
Stagg Pour-over Kettle 
Keepcup
Stonewall Kitchen Hot Chocolate Mix
Stonewall Kitchen Sugar Cookie Mix
Bombas Socks
Holiday candle
Custom greeting cards and envelopes
Le Pen set
Letter from Account Representative
Values Note Card/Gift Spotlight insert